Preventing Before Detecting
The gray scale patterns are used to identify vascular patterns. Our interpretation doctors use this technology in forming impressions. Most people are accustomed to viewing the color scale and are most familiar with that. The gray scale is the most important to the thermographer.
Thermography is the use and study of thermograms (infrared images) for detecting and measuring variations of heat emitted from the body's surface. This non-invasive screening procedure can be used to aid in the detection of pathology, inflammation, disease and cancer within the body. Thermography can be utilized as a proactive whole-body approach to wellness or used for areas of concern that may require further investigation and testing. 
A specific area of vascularity that either needs immediate referral out, or needs to be monitored over time. An unusual pattern of vascularity has been seen and requires monitoring.
This is used to measure actual temperature difference up to .1C from side to side. In some cases, tumors may be 4.0C different from side to side. The actual colors are not important, it is the difference between colors on the scale that is important. In most cases, the hottest temperature is shown as red (or white off the scale); while the coldest temperatures are shown in magenta (black off the scale).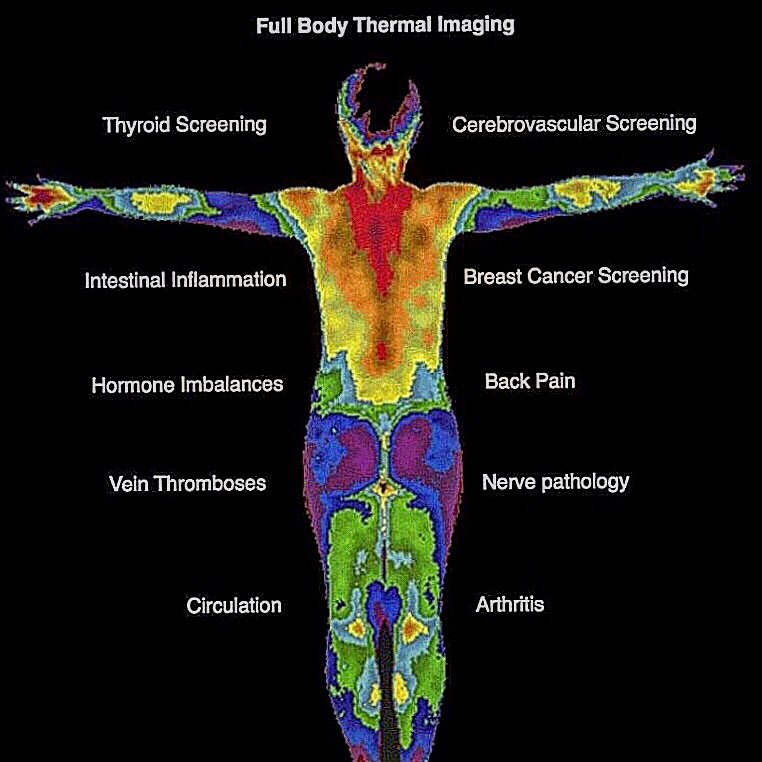 WHAT IS MEDICAL THERMOGRAPHY
Medical Thermography uses an infrared camera that, without radiation, creates an image by converting heat energy that radiates from the body into a signal which can then be viewed on a monitor and printed. Using no radiation, it's ideal for prevention because a scan can be done of the entire body and can be done as often as desired. X-Rays, CT Scans, Ultrasound and MRI scans are all tests of "anatomy" that measure structures of the body. Thermography is unique in its ability to measure your physiological changes and
metabolic processes.
Abnormal heat can be caused by cancer, inflammation, toxins, hormonal imbalance, nerve damage, and lack of circulation, just to name a few. We are symmetric—two eyes, a right and a left side of the body that mirror each other, in most cases, ten fingers and ten toes. Therefore, our heat signature should also mirror both sides of the body. If there is an extreme hot or cold spot on one side of our body that's not reflected on the other, we need to make sure it's not something that needs attention to avoid future issues.
Suspecting and knowing are not the same
Some people tend to wait for a tragedy to make healthy lifestyle decisions, but some testing can be invasive, and involve radiation. Thermography is very safe, in fact, it's safe enough for pregnant and nursing women. It's merely an accurate image of the heat radiating from your body that detects changes at the cellular level. Studies conclude that this test is 97% sensitive or accurate. While mammography is only 83% accurate.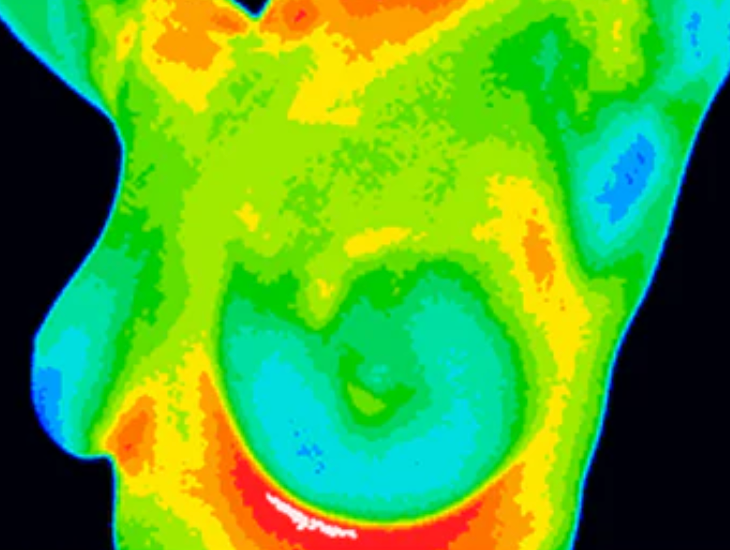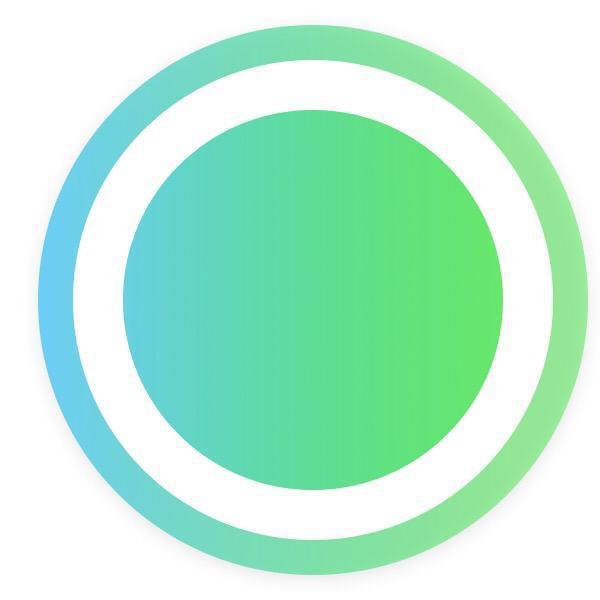 Our Certified Thermography Technicians make sure particular protocols are followed before screening.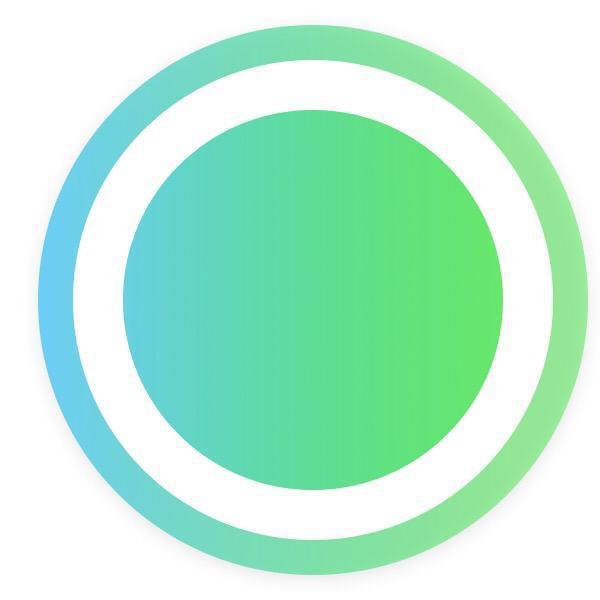 The room should be set up correctly (68-72 degrees and no direct sunlight).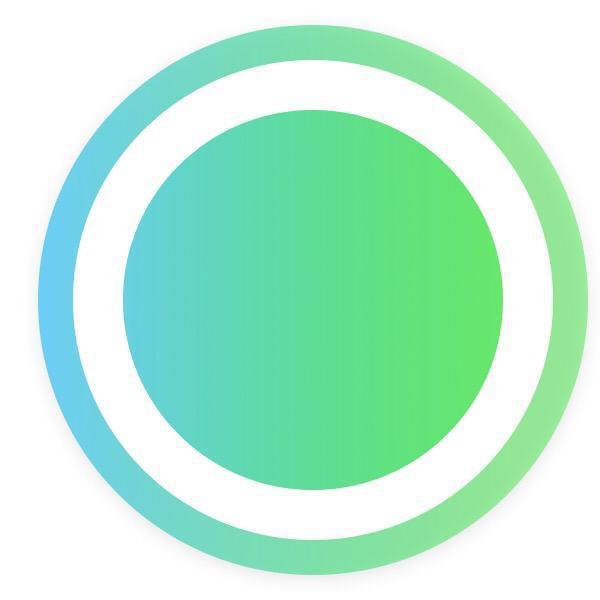 Thermography is performed in the nude (thong or jock strap ok but not preferred to check the skin everywhere) because clothes and hair hide accurate heat signatures. A scan with a privacy curtain is mandatory for men but available for both men and women.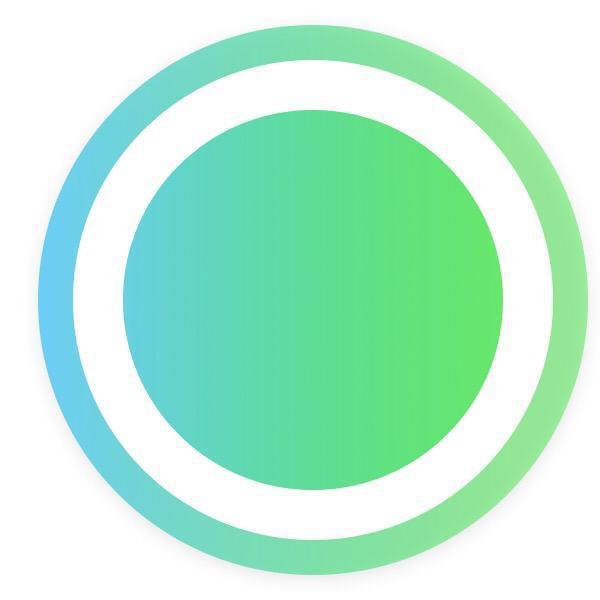 You will be asked to wait for about 10 minutes to get your skin temperature to a definable level.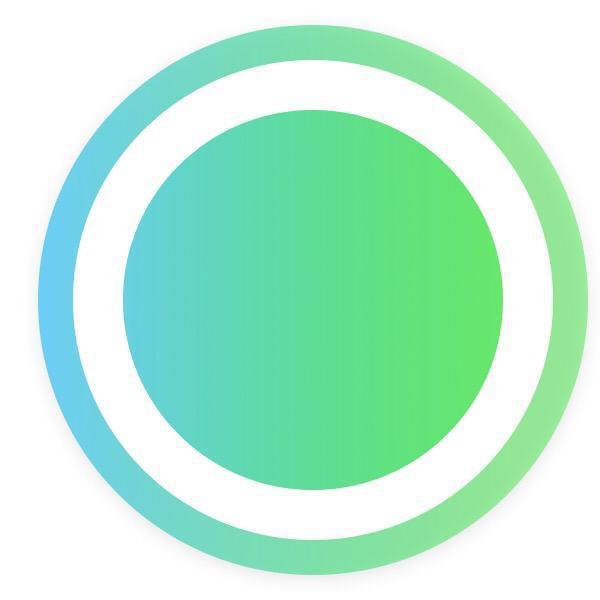 You'll be standing in front of the camera and sitting in a chair in 6 – 30 different positions depending on the screening you choose.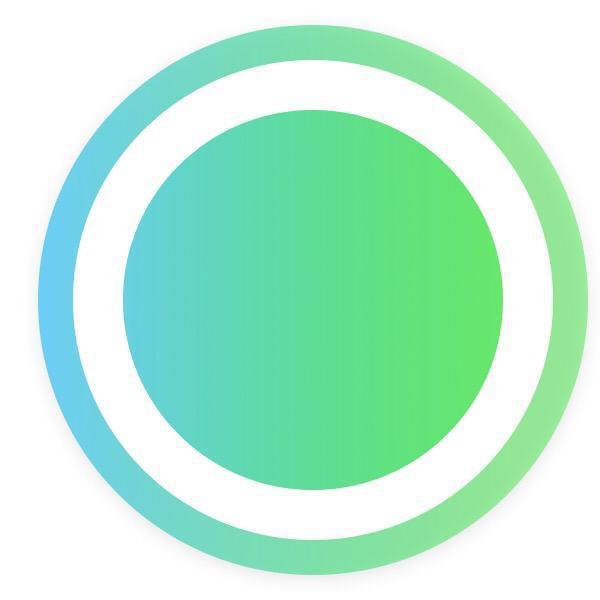 The actual imaging takes 10-30 mins.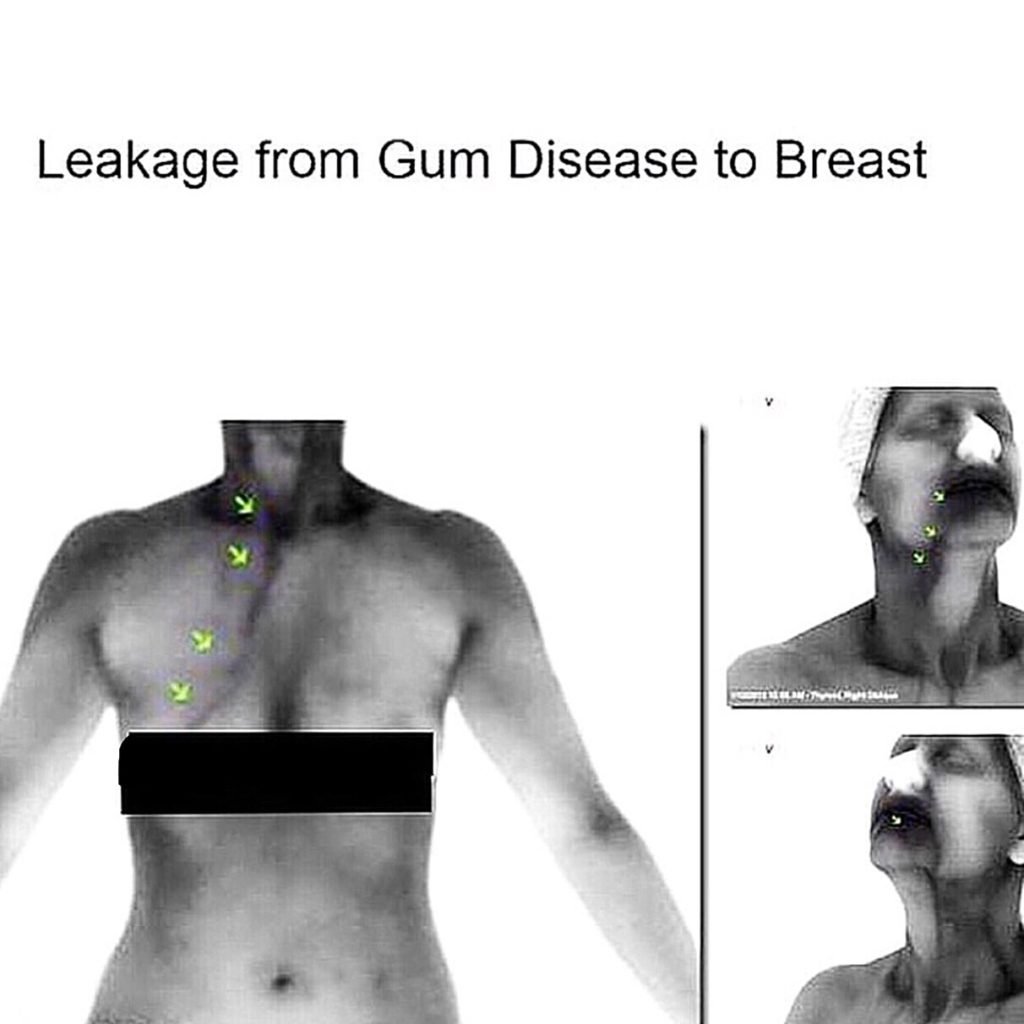 We then send the images to a team of trained thermologists, each image taken is analyzed by 3 levels of interpreters. The senior interpreter Dr. Sepper has a PhD in Radiology, Oncology and Thermology and has performed thousands of thermal studies. Once the report is ready, you will receive an e-mail notification and from there can select if you'd like the report sent to you or your doctor. If your doctor isn't familiar with thermography, you can set up a consult with one of our doctors, for a small fee. To learn more about our interpreting doctors visit www.btiscan.com
Findings Noted In Your Report
COMMON CONDITIONS IDENTIFIED
Gray scale Findings
Color Scale
Suspicious area of vascularity
Closed Vascular Pattern
A vascular pattern is arranged in a circular configuration that is not standard in normal anatomy. Time will reveal if this is a normal variant or a pathologic arrangement.
Estrogen Dominance
This is seen as the leopard spots on your breast and/or body. The thermal image is very similar to a hot flash when seen on our imaging devices. This condition is epidemic in the Western world, and especially the USA and Canada. Contributing factors include aging, stress, nutrition, over/under exercising, and more. You may be able to find a doctor through BTI who works naturally with ED.
Cancer, How It Forms, What is it?
Cancer is not an overnight event. It develops over many years. As a tumor grows, it develops a blood supply, which is called angioneogenesis. As the blood supply gets bigger (as well as the tumor), the heat associated with the increased blood flow increases. Our ultra sensitive imaging device picks up this temperature difference.
Early Detection
Every doctor will agree that the earlier you can detect cancer, the better the chance of survival. Breast Thermography detects cancer before it has even formed a tumor in some cases. It is these cases that are the most frustrating for our patients. The question becomes, Do I have Cancer? The answer in a non-traditional way would be yes, or even probably. As we stated earlier, cancer develops over years. Traditional methods would not agree with the diagnosis of cancer in this case because a tumor has not been spotted . To settle your frustration, this is good. Good because now is the time to reverse your adverse lifestyle and be diligent about your traditional tests. Make sure you follow all recommendations in your report and by your primary doctor. Also make certain that you follow a healthy lifestyle to minimize your chances of progressing further, and possibly reversing the process. In fact, whether or not there are any positive findings at all, it is important to stack the deck in your favor with cancer prevention. You cannot help certain genetic factors (5% of breast cancers), but there is a general healthy lifestyle you CAN follow.
Lifestyle Change
There is never a better time than the present to make lifestyle changes consistent with cancer prevention, even if you are completely healthy! Research is always adding new ways to improve your ability for your body to increase its immunity. There is a new and emerging field in health care today, called the Anti-Aging Wellness Movement . You can also obtain this information from qualified practitioners from other fields. A simple Internet search will help.
Common Conditions Identified
Partial Body Thermal Imaging
Most HSA and Flex spending accounts cover Thermography!!
Full Body Thermal Imaging
Most HSA and Flex spending accounts cover Thermography!!
Breast and Lymph Thermal Imaging
Most HSA and Flex spending accounts cover Thermography!!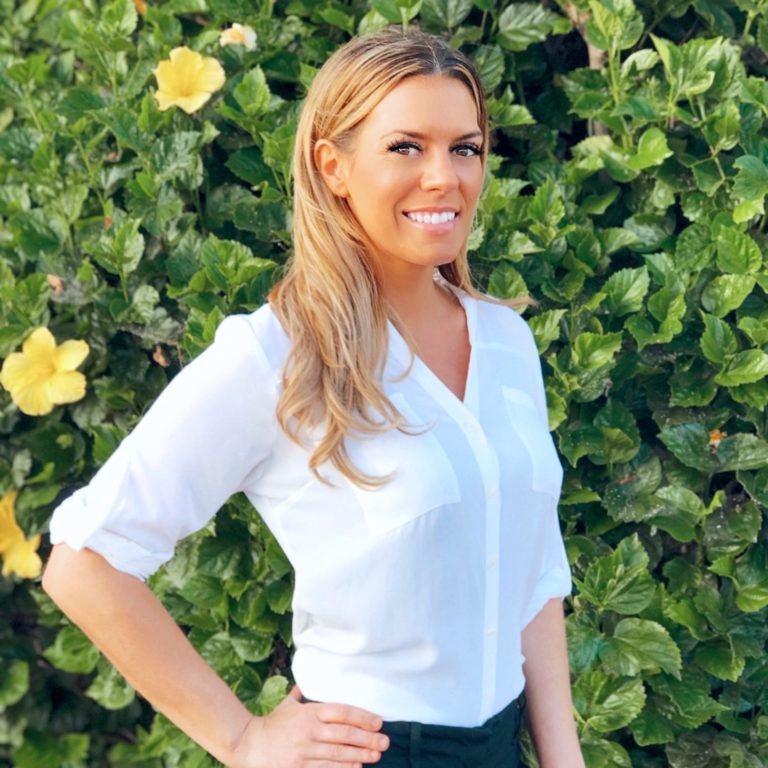 Nicole has been working in holistic healthcare for 6 years but found her true passion after her mother unexpectedly got Cancer in 2013. She is now dedicated to educating women and men of all ages about the benefits of thermography relating to early disease and cancer detection. Taking charge of your own health is empowering and her passion is to educate people on non-invasive modalities available for them. Nicole has been invited to wellness events as a guest speaker to discuss both medical thermography and wellness treatments. Since most tumors take years to grow, the earliest indication of pathology is needed to allow for the earliest possible intervention and the least aggressive treatments.
Nicole's hope is that through the collaboration with partnering doctors, thermography will become an integral part of every medical practice for health screenings. She received her CTT certification from the Professional Academy of Clinical Thermology (PACT) and is affiliated with Breast Thermography International (BTI).
1 Sablewood Circle, Suite B (Parking on Eton Place)
Ladera Ranch, CA 92694